Erika says I'm addicted to Kickstarter, and that may be so, but it is only because the site is home to innovative products like the Motrr Galileo. The Galileo is an ingenious piece of hardware that lets you move and rotate your smartphone remotely, with any other iOS device. No matter where you are, you can take control of your iPhone mounted on Galileo and rotate it around to take in and see more from your iOS device. You have to see it in action to really grasp just how revolutionary the Galileo is when it comes to what it can do. This quick video does a great job of showing just a few of the ways it can be used.
What: Motrr Galileo / $85 until 4/20/12 on Kickstarter, $129.95 retail / Motrr
What's Chic: Remotely control your iPhone so you can see more over video? Where do I sign?
What's Weak: The software still has to be built. There's no telling when Skype or FaceTime will support Galileo gesture controls. But good news, there is an SDK already.
Galileo Makes Video Calls So Much Better
As you can see from the video, there are literally dozens of reasons why this could come in handy; but for us we have two: Audrey and Banks. As a family with relatives scattered across the country, and our two small, adorable children here with us at least 1,800 miles away from any of them, there's a big demand for Face Time and Skype video chats to stay in touch. And Skype and FaceTime are great, to a point. Nana and Grandpa can say hi to the kids and really connect face-to-face; but five and six year olds can only sit still for so long before they're squirming out of their seats and are back to running around. Plus, for bigger events like Christmas and birthdays, there's no one place to put a phone or laptop to capture the entire scene so that our relatives can watch along from across the country.
The result? A laptop that constantly needs to be moved and frequent pleading for the kids to please, just stay in your seat for a few more minutes. Or worse, an iPhone left staring up at the ceiling or face-down on the carpet, or an abandoned laptop on a coffee table and two kiddos giggling, just off screen and out of site. And trust me, there's nothing more disheartening for relatives who just want to be a part of their lives to have them so close, yet be unable to keep up with them as they move around the room.
This problem disappears with Galileo. Now, the grandparents can control the camera with their iPhone or iPad and swivel to keep up with the munchkins as they scurry across the family room. When I saw it I bought it instantly and plopped down $95 for the limited edition Kickstarter green version. I can't wait to see the delight on our parent's faces when they can finally keep the camera in Banks and Audrey and really feel like they're part of what's happening at our house.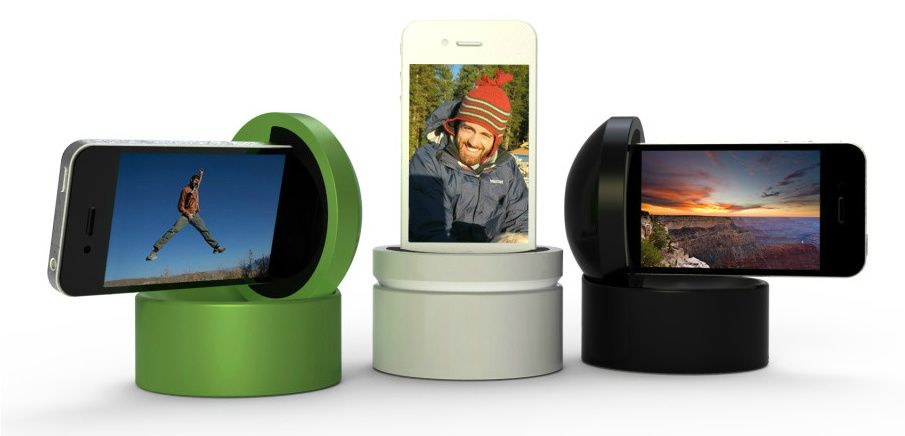 Galileo is a Kickstarter phenomenon. It's raised over $500,000 for development to date, well over its funding goal. And with just three days left before it's Kickstarter campaign ends, it's the last chance to grab a Galileo for just $85. Once they launch, they'll retail at $129.95. If you're like us and video chats are part of your every day world, or if you'd like to use video more; but need something more versatile, Galileo might just be the ticket.
Does The Chic Dad Recommend?
Absolutely! If you can relate to any of the above the Galileo is going to change what video chats mean to your family. And for the next three days you can grab the Motrr Galileo on Kickstarter for $85, instead of $129.95 at retail. I picked up one the moment I saw it, and I can't wait to see the look on our relatives' faces when they can finally keep the camera in front of the kids. I can't wait for ours to arrive.